Bio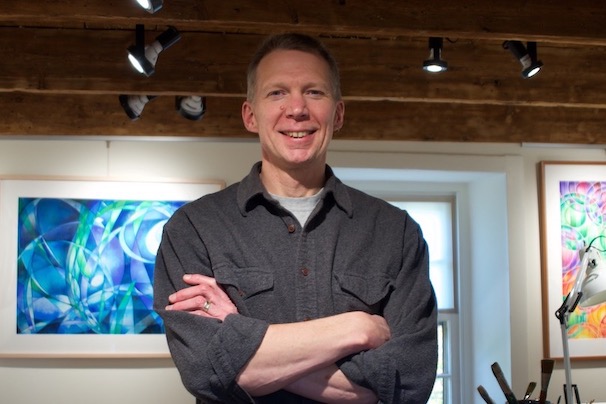 Invariably, when I meet people for the first time and they learn I am an artist, they ask what kind of art I do. I often stumble on my words and give a less than satisfactory (in my view) answer. What I "do" is inextricably connected to who I "am". That is true for all of us. It'd be nice to always tow a gallery around with me for a demonstration. Hopefully, this website is a step in that direction.

I did not choose to be an artist. Art chose me. I drew (as we all did) as a child, often creating episodic picture books that made sense to no one except me. I continued to draw at all ages and and all stages of my life. I received a Bachelor's Degree in Art from Penn State (University Park, PA), having also studied at Gettysburg College (Gettysburg, PA) and in Grebbestad, Sweden. I have exhibited my work in San Francisco, CA; Martha's Vineyard, MA; Stamford, CT; Toledo, OH; and Harrisburg, State College and Gettysburg, PA. My work is in private collections throughout the US.

Besides painting, drawing and photography, music is a passion, as is hiking. I have been a professional picture framer for over 20 years, having worked for an art museum, an art gallery and a custom woodworking shop. I live in south central Pennsylvania with my wife, Julie, where we are forever restoring our 1849 stone farmhouse.
Resume
EDUCATION
Bachelor of Arts, Pennsylvania State University, University Park, PA, 1982
Graduated with Highest Distinction, College of Arts and Architecture


EXHIBITIONS

ONE-PERSON EXHIBITIONS
Garryowen Irish Pub, Gettysburg,PA, Jan.-Mar. 2017

Penn State University-Mont Alto Campus, Mont Alto, PA, Sep.-Dec. 2016

Unitarian Universalists Meetinghouse, Gettysburg, PA, Jul.-Aug. 2016

Adams County Arts Council, Gettysburg, PA, Dec. 2015

Central Penn College, Summerdale, PA, May-June 2015

Pennsylvania Arts Experience, Marketview Arts, York, PA, Feb. 2015

Adams County Arts Council, Gettysburg, PA, Nov.-Dec. 2014

Hauser Estate Winery, Biglerville, PA, Apr.-May 2011

Unitarian Universalists Meetinghouse, Gettysburg, PA, Sep.-Nov. 2009

Blue Parrot Bistro, Gettysburg, PA, Jan.-Mar. 2009

Gallery 30, Gettysburg, PA, Dec. 2005-Jan. 2006
Lutheran Theological Seminary at Gettysburg, Gettysburg, PA, Oct.-Dec. 2004
Adams County Library, Gettysburg, PA, Jun.-Aug. 2004
Blue Parrot Bistro, Gettysburg, PA, Nov. 2001-Jan. 2002
Gallery 30, Gettysburg, PA, May 2000
Harrisburg Area Community College-Gettysburg Campus, Gettysburg, PA, Jan.-Feb. 2000
Golden Gate Lutheran Church, San Francisco, CA, Nov. 1991
The 10th Street Project House, San Francisco, CA, Oct. 1989

TWO-PERSON AND GROUP EXHIBITIONS

Healing Art, Majestic Theater, Gettysburg, PA, Sep.-Nov. 2016
Pennsylvania Governor's Mansion Show, Harrisburg, PA, Sep. 2015-Feb. 2016
Pennsylvania Arts Experience, Marketview Arts, York, PA, Dec. 2015-Jan. 2016

Blue Parrot Bistro - Adams County Land Conservancy Annual Art Auction Exhibition, Gettysburg, PA, Apr. 2000-2019
5 Guys, 50 Artworks - Gettysburg, PA June 2010

Gettysburg Fringe Festival - Gunnar Galleries, Gettysburg, PA, June 2010

All Island Art Show - Merit Award in Watercolor, Oak Bluffs, MA, Aug. 2009
HGAC Barn Art Show - Gettysburg, PA June 2008

Dragonfly Gallery, Oak Bluffs, MA, Oct. 2002
Gallery 30, Gettysburg, PA, Oct. 2002
Doshi Gallery at the Susquehanna Art Museum, Harrisburg, PA, Nov. 1998
Lutheran Theological Seminary at Gettysburg, Gettysburg, PA, Apr. 1993
Lutheran Heritage Festival, York, PA, Nov. 1992

JURIED EXHIBITIONS AND AWARDS

Birds Of A Feather, Annmarie Sculpture Garden and Arts Center, Solomons, MD, May-Aug. 2018

Adams County Juried Exhibition, Gettysburg College, Gettysburg, PA, June 2017
Adams County Juried Exhibition - Third Place Prize, Gettysburg, PA, June 2015

Adams County Juried Exhibition, Gettysburg College, Gettysburg, PA, June 2013

The Now Wow Project II, Hudson Gallery, Sylvania, OH, Oct. 2012

Adams County Juried Exhibition, Gettysburg College, Gettysburg, PA, June 2012

Faber Birren National Color Award Show - Vivian and Stanley Reed Award, Stamford Art Association, Stamford, CT, Oct. 2011
York Arts Association Juried Exhibition - York, PA, Oct. 2008

Adams County Juried Exhibition - Third Place Prize, Gettysburg, PA, Oct. 2007
Adams County Juried Exhibition, Gettysburg, PA, Oct. 2006
Adams County Juried Exhibition, Gettysburg, PA, Oct. 2005
Adams County Juried Exhibition, Gettysburg, PA, Oct. 2004
Doshi Gallery at the Susquehanna Art Museum, Harrisburg, PA, May, 1998
Steven Johnides Gallery, San Francisco, CA, Sept. 1985
Undergraduate Juried Show, Penn State University, University Park, PA, May, 1982